Cappadocia: the iconographic mesmerizer
ERNEST WHITMAN PIPER
ISTANBUL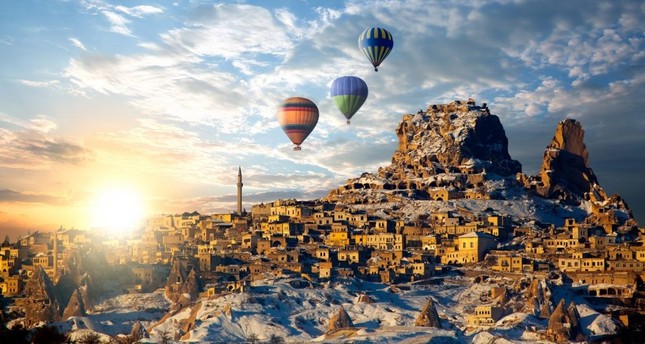 Cappadocia, the geological Disneyland consisting of canyons, cave cities and iconography, is a good alternative for those looking for a unique weekend getaway with aerial views in hot-air balloons and ATV's in UNESCO's only open-to-drive area
Hundreds, perhaps thousands of tourists spill out from Nevşehir airport every hour, starving hysterical, to join the mad pursuit of canyon pleasure only found in the Cappadocia region. Savvy vacationers on package tours from the U.K., EU and the Gulf, even from far-off America, Australia and New Zealand, get whooshed in, like mail in pressurized postal tubes, for an experience as regulated as some Southern California juice diets.
It is obviously because Cappadocia is great. We all know this. It is the only UNESCO World Heritage Site you are allowed to drive dune buggies and ATVs all over.
If you do not know what it is, or you have not yet run your fingers across the spine of a Lonely Planet, or cannot check Wikipedia for whatever strange reason, I will inform you. Millennia of volcanic activity and cave-dwelling religious communities transformed an otherwise unremarkable scar of desert into a geological Disneyland of pillars, canyons, caves and iconography. Improbable stones balanced on skinny rock towers. Underground cave cities covered in frescos. A wall of bright red stone rippling across the face of a mesa. A giant beehive-shaped castle visible on all horizons.
Despite the hype, the slavering hordes of tourists and the mediocre overpriced food, I still do a double take whenever I hear someone say they have not visited. It is still one of the most fun places on earth. It is vast, so whenever I visit I discover something new, and it is full of quirky small-town-isms missing from the big city lifestyle we lead in Istanbul.
So this little guide is a city-slickers' guide to doing Cappadocia in a weekend, geared toward the Istanboulites who either have never visited or only visited once as a child in the distant past. It is still wicked fun, even in a small burst. Cappadocia is a huge region – even if you were to stay for a year, you would not cover it all – but I have been there four times now, and each good Cappadocia trip contains a few key activities. Rather than a list of what exactly to see and do, I will be giving you the ingredients for you to bake your own cake –or, create your own trip. And, I will show you how do it for so cheap that you still have hundreds of liras left over for your city-slicker crepes. But do not think you can get crepes in Cappadocia, too.